The acorn weevil is a member of a genus of weevils called Curculio. Related species include the pecan weevil, chestnut weevil, and filbert weevil. Not surprisingly, the nut from the oak tree plays a prominent role in the life of the acorn weevil. This article will discuss how to identify and detect acorn weevils as well as how they reproduce and significant steps in their life cycle. If you find yourself with an acorn weevil infestation, contact the professionals at Clegg's Pest Control today. .
Identification and Detection
A fully grown adult is typically about 3/8-in long and mottled brown in color. The specific coloring allows it to blend well into its surroundings.
A female acorn weevil has a particularly long snout or beak that is ideal for creating holes in acorns, thanks to the saw-like teeth at its very end. The snout has a hollow center which allows the weevil to feed on liquids and plant matter. In some cases, this protrusion is actually longer than the female's body.
By contrast, acorn weevil larvae will be off-white in color, legless and quite robust. The presence of acorn weevil larvae is detected by examining acorns in the area and looking for holes. An infested acorn may have one or more holes in its shell. One can break open the shell to look for the C-shaped larvae and/or evidence of feeding.
Reproduction and Life Cycle
Early in the growing season, an adult female will lay her eggs in a young acorn after she first gains access to the nut by drilling a hole in the shell. After the eggs are laid inside the acorn, the weevil plugs up the hole with her own feces. Just a few days later, the eggs hatch and legless, C-shaped grubs emerge. These larvae are typically 1/4 to 3/8-in long. They grow by feeding on the matter inside the acorn.
In the fall, a grub bores a hole in the acorn shell in order to escape into the surrounding soil. It will burrow down into the ground, and it becomes invisible to possible predators. Once the weevil has burrowed into the soil, it may stay there for as long as two years before it finally emerges as a mature adult.
Squirrels and Infested Acorns
Squirrels often ignore these infested nuts, because they appear to have an innate ability to gather only the "good" nuts. Children are often tempted to collect acorns and bring them into the house. If any of these acorns are infested by acorn weevils, the home's occupants may be greeted by the sight of wiggly grubs on floors or counters.
Find Acorn Weevil Control Services at Clegg's
There are both natural and chemical controls that may be employed to deal with acorn weevil infestations. To learn more about pest control and the acorn weevil, contact Clegg's online or via phone at 888-672-5344.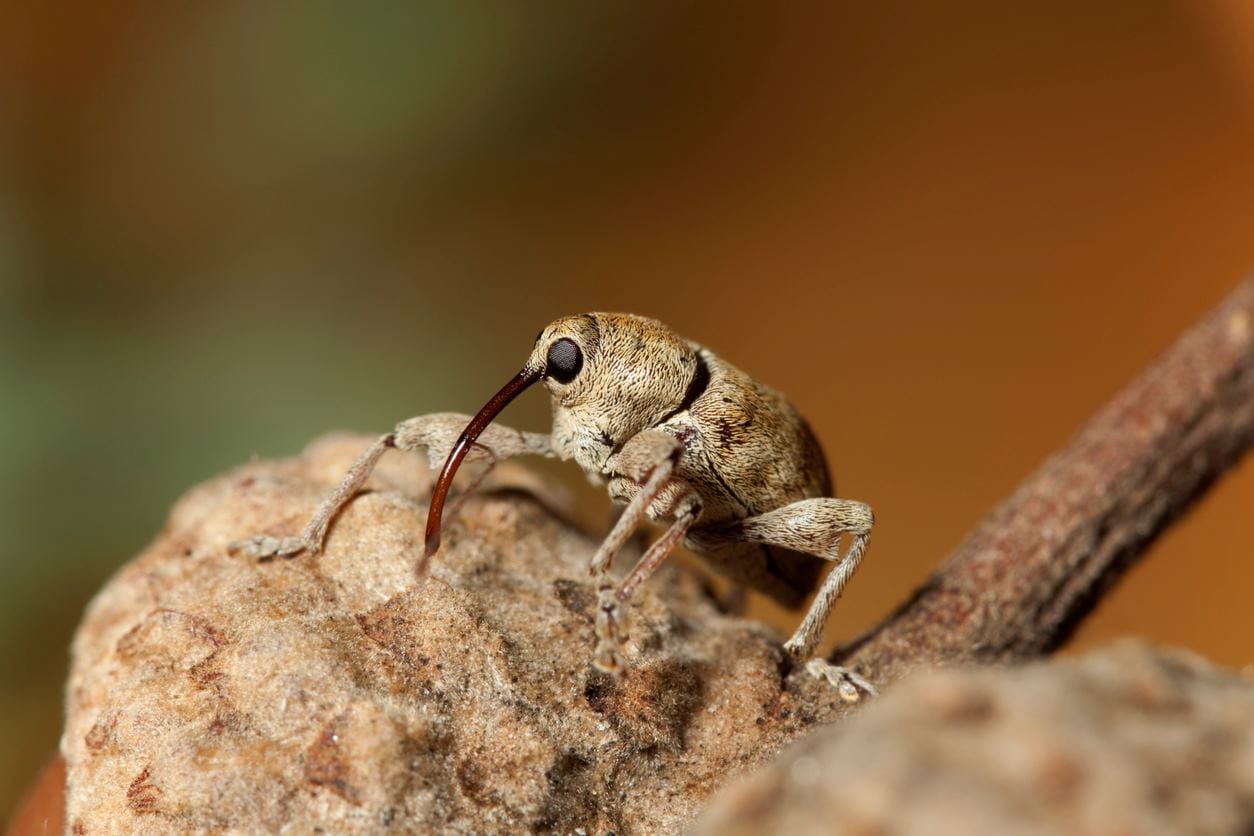 How to Identify Springtails
When springtime arrives, many types of irritating and damaging pests arrive as well. While most pests stay outdoors, some may make their way indoors to find environments that are more conducive to their survival. The springtail is one such insect that occurs naturally outdoors and becomes a huge nuisance when it makes its way inside.
Continue reading to learn how to identify these springtails, where you are most likely to find them, and what problems to look out for. If you find yourself with a springtail infestation, contact the professionals at Clegg's Pest Control for high-quality springtail control today.
What Are Springtails?
Although one may think springtails are named for the time of the year during which they are most often seen, this is not actually the case. Their name is derived from the spring-like apparatus on their abdomens that causes them to jump up to five inches when they are startled. These very small insects are typically an eighth of an inch or less in length and come in a variety of colors with black and gray being the most common. Their appearance is similar to that of a flea.
Where Do Springtails Live?
Springtails must have moisture in order to survive. They normally find this outdoors in dirt and under rocks or logs. Homeowners may find them naturally in flowerbeds or woodpiles. Some springtails may even pop out of the snow on a warm winter day although this usually only happens during an infestation.
However, when springtails cannot find the moisture they need in their natural habitats, they may move indoors by crawling underneath doors. Then, they try to find the moistest environments in the home, which are typically in the kitchen, bathroom or basement. Homeowners may find infestations in basement walls, inside walls that have experienced a burst pipe, or around kitchen cabinets, toilets or bathtubs. Sometimes they may even migrate to indoor potted plants to live in the moist soil.
What Problems Do Springtails Cause?
Springtails are typically nothing more than a nuisance. They do not feed on indoor or outdoor plants and do not ruin structures within the home. They also do not bite. Of course, the longer they stay in a home, the more they will reproduce, increasing the problem exponentially.
Find Springtail Control Services at Clegg's Pest Control Today
If you have questions about Springtails or any other type of pest, contact Clegg's online. Or you can call on the phone at 888-672-5344 for a complete evaluation of your home or business.