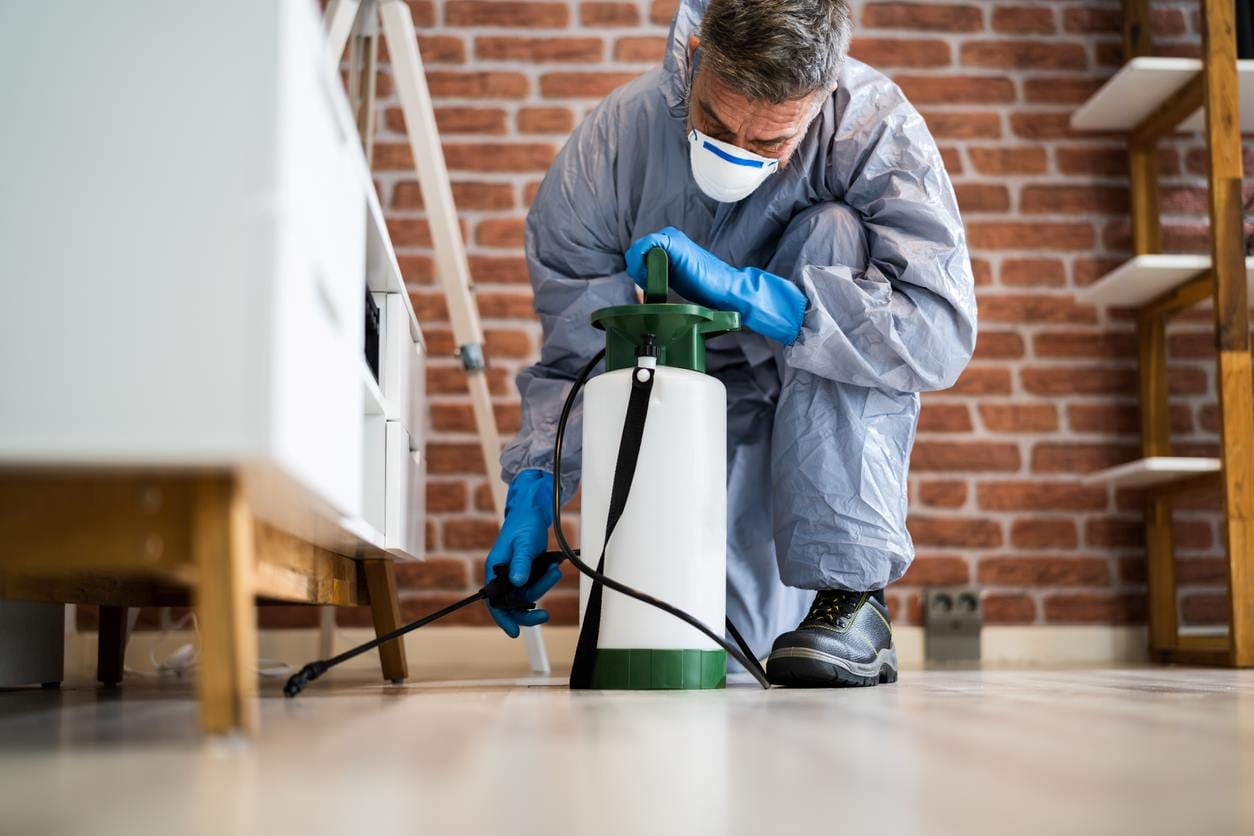 A very common question we get when our team arrives to perform general pest control treatment is: will pest control spray or treatment stain my carpet? We certainly understand where the concern comes from. Many of us are homeowners as well, and want to protect our floors and carpets from staining. However, the answer in our case is no!
Our pest control treatment options will not stain or force you to find a local carpet cleaning company. Let's talk about how our pest control treatment works, and explain why you don't have to worry about our technicians damaging your home.
Where Do Pest Control Companies Spray Treatment in my Home?
We offer a wide variety of pest control solutions that are highly customizable depending on the pest you have in your home. However, when most people think of pest control spray, they are thinking of the spray included in most of our General Pest Control treatment plans. This specific spray is rarely applied to carpets or the floor of the home.
When our technicians use this spray they focus on the baseboards of each room. These are the areas where pests would be most likely to enter the home from. This pest control treatment is designed to keep pests from entering the house using safe compounds that act as a deterrent to unwelcome insects.
The only case in which a technician would definitely need to spray the carpet is in flea extermination and control, or to exterminate another type of carpet insect. In this case it is necessary because the insect lives in the carpet specifically. However, even in that case, the compounds we use are safe for your home. They are designed not to stain or damage your carpet or floor.
Which Bugs Are Eating my Carpet?
Is your carpet already damaged thanks to an unwelcome pest invader? There are a few specific types of insects that are famous for destroying carpets.
Silverfish
One of the most common culprits of carpet damage is the silverfish. This insect is noticeable for the three large bristles on their rear, and are a common household pest. They are notorious for destroying or damaging carpets. Common signs of silverfish infestation include holes in the carpeting with yellow stains, and fecal matter on the carpet or in room corners.
Carpet Beetles
Carpet beetles are so infamous for damaging carpets that they were named after it! These insects have a small dark oval body, with varying color on their backs or wings. They don't normally consume carpet as adults, but if they get into your house they lay eggs in the carpet. These eggs then hatch, and the newborn carpet beetles go to work destroying and consuming the carpet.
Call our Clegg's team if you notice the following signs of activity: shed skins on or near your carpet, fecal pellets around carpet, irregular holes in carpet or furniture.
Carpet Moths
Carpet moths are small for a moth, but the damage they cause can be anything but small. While one moth cannot do much damage on its own, it is their larvae you have to watch for. One female moth can lay hundreds of eggs in your carpet that hatch and eat everything. Keep an eye out for common signs of carpet moth damage like:
Loose carpet fibers where carpet has been eaten
Moths flying in your home
Small cocoons that blend in with your carpet
Larvae moving in your rug or carpet
If you think you may have carpet moths, call our Clegg's team at (888) MRCLEGG and have one of our team members perform a FREE inspection of your carpet!
Worried About Your Carpet? Call Clegg's!
While our pest control treatment options won't damage your carpet, some pests definitely will! If you think you have a problem with pests in your carpet or home, call our team at (888) MRCLEGG and schedule a FREE inspection. We are standing by and ready to defend your home, give us a call today!