PEST PROBLEMS GETTING YOU DOWN IN DURHAM?
When pests invade your home or business, who do you call? Serving the local community for more than 50 years, Clegg's Termite and Pest Control has established itself as Durham's most reliable pest management solution. Our customized pest protection treatments are second to none. We continually strive to maintain only the highest customer satisfaction and enduring pest defense. Committed to keeping our clients' properties free of pests, Clegg's service technicians provide proven pest control services in Durham. Grab a bite downtown at Brightleaf Square and dine with peace of mind knowing your home is protected from any unwanted pests. Call or contact us online to schedule your Free General Inspection today.
Why Clegg's Pest Control?
Clegg's Pest Control has been family owned and operated in North Carolina for over 50 years, and we are headquartered right here in Durham. We are licensed by the North Carolina Department of Agriculture, and are proud of our long history of serving the people of Durham and North Carolina. When a Clegg's Pest Control team member knocks on your door, you know that they will be friendly, highly-trained, and professional. We are quick, non-invasive, and highly knowledgeable in our field. You can rest assured that we will work to control your specific pest problem and that you and your family will be protected by the safest and most effective pest control practices in the industry. We provide a variety of solutions to protect your home, including:

Clegg's Pest Forecast
Bed Bugs
Bed bug infestations are quite common during the summer months in Durham. Increased travel for summer vacations causes an increased spread of bed bugs. These insects hitchhike their way into new homes and businesses when people travel during these seasons. As more and more people travel after being vaccinated, the number of bed bug infestations will continue to rise in Durham. Make sure you are protected.
In Durham, North Carolina, bed bugs are a common pest. However, they often go undetected. Despite their name, bed bugs can also be found in other cushioned furniture in your home like sofas, large chairs, and more. Detecting bed bugs can be extremely difficult, but we have Rambo and Smoke on our team, our bed bug detection dogs. They have years of experience using their sharp canine noses to detect bed bugs, and allow us to quickly and effectively identify and control a bed bug infestation. Think you may have a bed bug problem in your residential or commercial building? Call your local pest control heroes at Clegg's.
Mosquitoes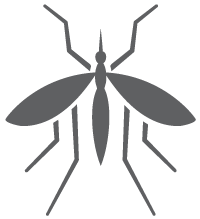 Summertime in North Carolina means the arrival of relentless waves of mosquitoes. Mosquitoes are a common problem for residents in Durham, NC. As temperatures rise in the spring and summer, mosquitoes begin to reproduce at alarming speed. These mosquitoes make themselves right at home in backyards around Durham. While there are some measures that homeowners can take to reduce the amount of mosquitoes in your yard it is nearly impossible to completely eliminate a mosquito population without the help of professional mosquito management in Durham, NC. If you want to enjoy your yard without being bombarded by buzzing little pests, contact Clegg's Pest Control today. We will be more than happy to help you enjoy a mosquito free summer in your yard.
Termites
When it comes to destructive insects in North Carolina, few can cause as many problems as termites. Termites can single handedly destroy your home and cause tens of thousands of dollars in damage. As summer temperatures begin to creep into North Carolina, termites become more and more active. Peak termite season is between March and November. During this period termites are in constant search for food and they find it in the wooden parts of your home and even in wooden furniture. If you spot termites it is important that you contact a professional for termite treatment in Durham, NC. Contact Clegg's Pest Control today to schedule a complimentary initial inspection and stop termites in their tracks. Our professional termite control experts will help you eliminate termites from your home.
We are your local Durham pest control heroes!