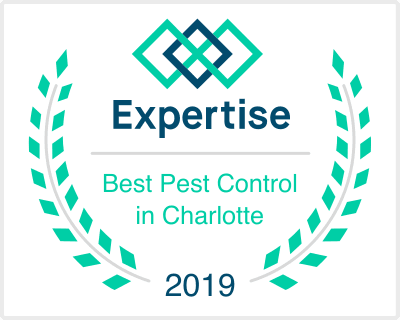 Pest problems in Charlotte?
Charlotte's got a lot, it's true. Unfortunately, Charlotte's also got a lot of insects and pests! Do you have some of those unwelcome pests in your Charlotte home? We at Clegg's Termite and Pest Control are here to help! Looking for a bug exterminator in Charlotte? With over 50 years of experience serving Charlotte and the broader North Carolina community, Clegg's is Charlotte's reliable and effective pest management solution. Call us today at (888) MRCLEGG and schedule your FREE initial inspection!
Charlotte, NC Pest Control Services
Our tailored pest protection treatments are the best in the industry. With over 5 decades of history working to control and eliminate pests in Charlotte and the greater Mecklenburg county area, you can trust us to protect your home. Our goal is to maintain the highest levels of customer satisfaction, and provide the most effective, *safe* solutions for pest defense in the industry. Our service technicians are highly trained to deal with all different types of pest infestations, and approach your pest control problem with a unique solution that will be effective for your home. Ready to keep your eye on that Carolina Panthers game on TV instead of on the lookout for unwanted pests in your home? Call (888) MRCLEGG or contact us online to schedule your Free General Inspection today.
Why Clegg's Pest Control?
Clegg's Termite and Pest Control is proudly family owned and operated for over 50 years. We are licensed by the North Carolina Department of Agriculture, and with 13 locations are proud of our long history of serving Charlotte and North Carolina. Why Clegg's? When you work with us to control the pest problem in your home, you can be confident that our treatment of your pest problem will be quick and effective. Most importantly, however, it will be safe for you and your family. We employ a friendly, professional staff of technicians and specialists who are trained in the most effective and safest pest control practices in the industry. We provide a wide variety of solutions to protect your home, including:

Spotted these summer seasonal Pests in your Charlotte home? We can help!
Termites
Termites dine on the wood of dead plant life and trees. Unfortunately for us Charlotte citizens, they are not smart enough to know the difference between a tree and the wood in our homes. Termites work in large colonies and become increasingly active now during summer, when temperatures are warmer and they are awake and hungry. There are some signs that are common indicators of termite activity in your home that include:
"Bubbling" in sections of your drywall or baseboards
Peeling paint in layers that make the wood appear thin or layered
Damaged areas of walls or baseboards
Hollow sound when knocking on wooden walls, floors, or studs
Are any of the above happening in your home or commercial residence? Call us at (888) MRCLEGG or contact us online to schedule your Free Inspection today as well as learn more about our termite treatment solutions for your Charlotte home or business.
Bed Bugs 
Have you noticed small dots of blood, or dark spots on your bed or other cushioned furniture this summer? Are there small egg shells or droppings around your home? Do you have strange bites on your legs or arms? If so, call us today and schedule a bed bug inspection. Bed bugs can often be difficult to identify, and live in other areas of the house than the bedroom alone. However, we can effectively identify a bed bug infestation thanks to the trusty noses of our Clegg's bed bug detection dogs, Rambo and Smoke. Their canine noses can sniff out a bed bug infestation in your home similar to how drug sniffing dogs perform their work. In addition to being incredibly effective, they are also highly adorable and friendly. Do you think you may have a bed bug infestation in your home? Don't wait, call us today at (888) MRCLEGG and speak to one of our bed bug experts to schedule an inspection.
Mosquitos
Summer means warm temps and pool weather here in North Carolina. Unfortunately for us here in Charlotte, however, it also means mosquitos! If you have lived through the summer season in NC, you know exactly how much of a scourge mosquitos are for us. They become more active once temperatures warm up, and spend the summer months eagerly feasting on exposed skin. Its shorts season, and shorts don't even feel safe thanks to these pests! Don't worry though, your Clegg's Pest Control heroes are here to help. If you are having mosquito problems in Charlotte, contact our team today at (888) MRCLEGG. We have custom mosquito treatment plans designed to free your home from this dreadful pest and get you back to enjoying summertime!
Call your Charlotte pest control heroes!