PESTS AND BUGS FRUSTRATING YOU IN FAYETTEVILLE? CALL CLEGG'S!
If you are looking for an experienced and effective bug exterminator in Fayetteville, look no further than Clegg's Pest Control! Family owned and operated for over 5 decades, we have protected Fayetteville and Ft. Bragg homes and businesses from invasive pests for the better part of a century. That experience means we are the best when it comes to quickly identifying and eliminating pest infestations and defending your property from future pest invasion. You should be spending your time walking the Cape Fear River Trail, not running from bed bugs or termites in your home! That's where we come in. Call your local Fayetteville Clegg's Pest Control team at (888) MRCLEGG and speak to us about scheduling your FREE General Pest Control Inspection. Let us get to work protecting you today!
INDUSTRY LEADING PEST CONTROL SERVICES IN FAYETTEVILLE
At Clegg's Pest Control, we're committed to delivering nothing but the highest quality of service and pest management. For more than 50 years we have carefully studied the behaviors and tendencies of pests, developing the most successful pest control services available. Whether you're experiencing an infestation of ants, termites, bed bugs, cockroaches, or other pests, our Fayetteville, NC pest control company has the pest management and defense options to solve your pest problem. Our team of pest control technicians and specialists are highly trained in the latest and safest pest control treatments in the industry. We are ready to put that training and experience to work protecting your home or business. We even provide professional pest control for your church. Call us at (888) MRCLEGG today!
WHY CHOOSE CLEGG'S PEST CONTROL FOR YOUR HOME OR BUSINESS?
Our company got its start over 5 decades ago. One man wanted to help a friend and neighbor with his pest problem. So he picked up his tools, hopped in his truck, and got to work. Over 50 years later, our company has changed a lot. We now have 13 locations spread across North Carolina, and help tens of thousands of NC residents with their bug and pest problems. However, despite all those changes, the spirit of our family owned and operated company remains the same as it did in 1965. Every day we pick up our tools, hop in our trucks, and get to work protecting our friends and neighbors from unwanted and dangerous pests. Any building is at risk for a pest infestation. Even churches and country clubs can experience infestations of various kinds. It is important to make sure that your space is protected.
When you work with our Clegg's Pest Control team, you are working with a friendly and professional group of highly trained pest control experts. Our team members undergo constant training to stay up to date on the latest, most effective, and safest pest control solutions in the industry. Whether you have bed bugs, termites, spiders, silverfish, or cockroaches, our Clegg's Fayetteville team is ready to leap into action protecting your home with a variety of pest control solutions including:

Clegg's Pest Forecast
Bed Bugs
During the spring and summer, homeowners are at serious risk of bed bug infestation. Infestations spike during these periods because bed bugs are spread when people travel from one location to another. These invaders frequently cling onto people's belongings and hitch hike their way into people's homes. As more and more people in Fayetteville are vaccinated, the rate of travel will increase, and so will bed bug infestations.
These pests are notoriously difficult to detect, but they can become a serious problem very quickly. Bed bugs make their home in other cushioned furniture like sofas or large chairs. Some common signs of bed bugs do exist as warning signs however. If any of these sound familiar to you, you should call Clegg's right away for an inspection:
Small bite marks or red marks on your arms and legs
Dark spots around the corners of you bed or other cushioned areas
Small red drops of blood around your bed or cushioned areas
If you think you may have bed bugs in your home, call us now and schedule your inspection today.
Mosquitoes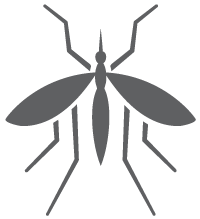 Everyone in Fayetteville has had their fair share of encounters with mosquitoes. These annoying little pests find their way into everybody's business as summer temperatures begin to rise. Mosquitoes thrive in the humid summer weather here in Fayetteville. While there are a few preventative measures you can take to limit the amount of mosquitoes that bug you this summer, completely eliminating itchy bug bites is a tall task. Luckily the professional mosquito management experts here at Clegg's Pest Control are happy to help. We offer premium mosquito management services in Fayetteville, NC that will ensure that you and your family can enjoy the outdoors all summer long. Give us a call today to have one of our outdoor mosquito management experts visit your home and come up with a plan of attack.
Termites
As summer temperatures rise insects of all shapes and sizes arise from their slumber and begin creeping around looking for food. One of the most destructive insects in Fayetteville, NC is the termite. Termites have the capability to cause tens of thousands of dollars worth of damage to homes and businesses. Termites are most active between the months of March and November. If you have spotted termites in your home or have encountered warning signs like hollow wood or maze like structures in the wood frame of your home, contact Clegg's Pest Control as soon as possible. It is vital that you eliminate termites before serious damage is done to your home. Give us a call today to schedule a complimentary initial inspection. Our experts provide premium termite treatment in Fayetteville, NC.
Our Clegg's Fayetteville team is proud to be your local pest control heroes!