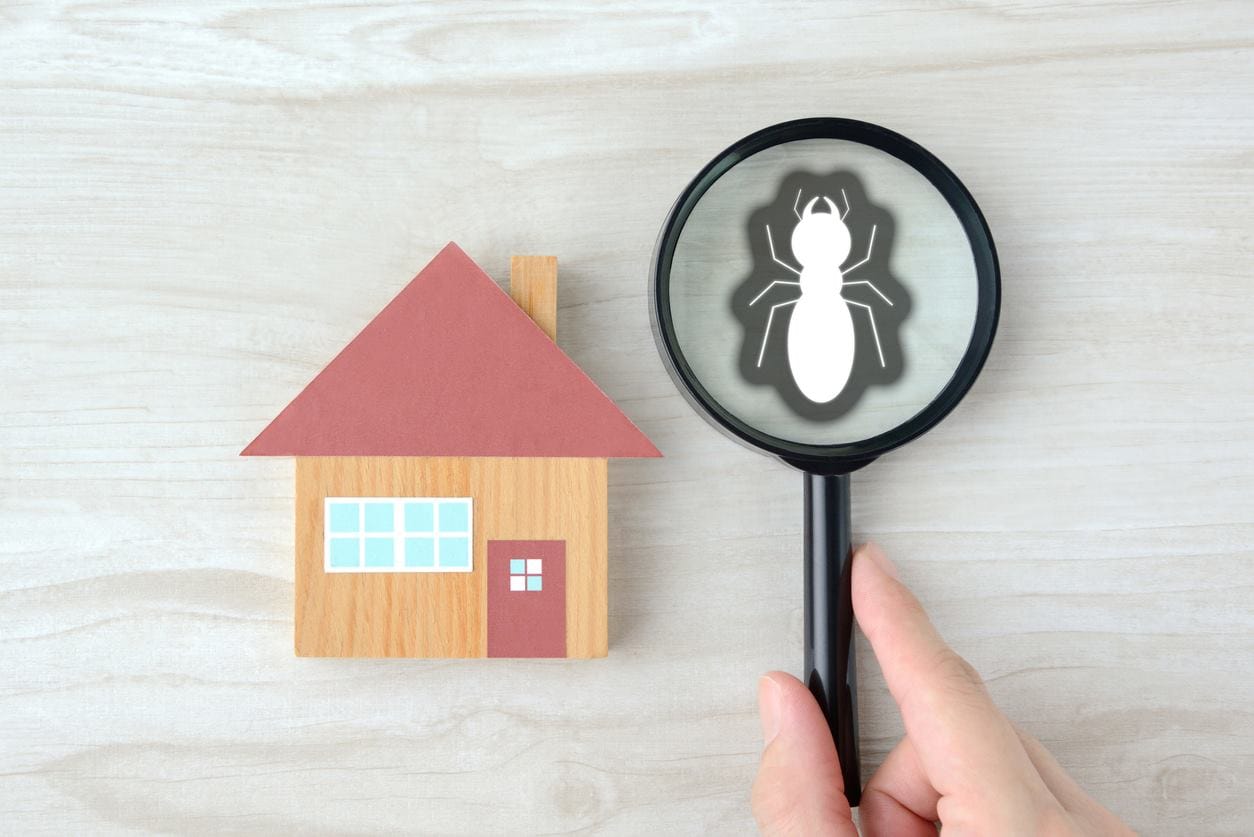 Carpenter ants and termites may look the same to the untrained eyes, but make no mistake: they are two separate insects, both capable of damaging your home. Both critters are small, oblong insects with wings. However, while Carpenter Ants and Termites boast somewhat similar physical characteristics, there are still important differences to know between the two.
In terms of how dangerous they both are, you should immediately take pest control measures if you discover either carpenter ants or termites. Termites have the insatiable ability to chew through wood, flooring, and wallpaper without being noticed. Due to this, Termites are often called "Silent Destroyers."
Carpenter Ants infestation can also go unnoticed, However, unlike Termites, Carpenter Ants can take years to cause significant damage.
If you fear your have an infestation of either carpenter ants or termites, we have some tips and tricks to get rid of and prevent these critters from taking over your home.
Common Places to Find Carpenter Ant Damage
Carpenter ants are highly capable of damaging any sort of wood in which they nest. Their infestation can become serious when left unnoticed or untreated. In some situations, a colony of carpenter ants can develop satellite nests that can cause severe damage to your home. These ants rarely nest in dry wood.
An indoor carpenter ant infestations can be easily noticed by a handful entry points, including:
Attic vents
Cracks
Foundations
Pipes
Electric wires
Telephone lines
Carpenter Ants do not gain any nutritional value from wood; instead, they use their powerful mandibles to damage the wood and make nests. Their pincers can also give you a painful bite if you are not careful around these pests. These kinds of ants clean and polish their galleries of wood so that they seem to be smooth inside.
The potential damage caused by carpenter ants to a house or building totally depends upon a number of factors, the number of ants, and the size of nests that are present in one area. The longer the ant infestation remains untreated, the more serious the damage can result. We suggest locating carpenter ants and their nests as early as possible.
Where do Carpenter Ants Live in Your Home?
Carpenter ants generally prefer to nest in structural lumber like wall voids, windows, hollow doors, and foam panels. This provides a safe habitat for their queen. They primarily seek wood that has been softened by decay, moisture, or other insects. As a result, most of these ant nests are found in decaying wood in common areas like windows, chimneys, door frames, sinks, or bath traps.
When carpenter ants nest outdoors, they are usually found in hardwood trees that consist of holes and other imperfections. Whenever the carpenter ants nest in non-wooden areas, it means that they have found an alternate place that provides them steady temperature, protection from environmental conditions, and safety from natural enemies.
Indoors, carpenter ant nests might be located in wood suffering from decay or moisture damage. Unlike termites, carpenter ants do not eat wood, but they burrow through wood with the help of their mouthparts and excavate galleries for their nests.
Do Carpenter Ants Cause as Much Damage as Termites?
Both carpenter ants and termites typically cause more damage and more havoc among homeowners than the other members in the insect kingdom. If we compare the damage and destruction caused by carpenter ants and termites, then termites are far more destructive than carpenter ants in terms of cost. . The damage caused by termites can run into the billions each year in the United States alone. This damage is even more staggering when it comes to the destruction caused to crops or building structures, which amounts to nearly $30 billion.
On the other hand, Carpenter ants are no slouches, causing property damage that costs into the millions.
What Are the Differences Between Carpenter Ant and Termite Damage?
One of the significant differences between carpenter ants and termite damage is the way they create galleries and tunnels. Carpenter ants create galleries and tunnels that are smooth, neat, and have a finished appearance. On the other hand, the galleries and tunnels created by Termites have a rough and rugged feel and will be caked with mud. Sometimes, you may even see mud tubes created by Termites on the foundation or other walls.
Termites, being "Silent Destroyers,"  have the ability to chew through wood, flooring, or wallpaper undetected. Similar to termites, carpenter ants infestations often go undetected until it is too late.
The overall damage caused by carpenter ants is not as severe as termites. As the number of individuals grows inside a gallery or colony, they continue to expand through the wood that causes more damage.
What Attracts Carpenter Ants into Your Home?
One of the common questions that you might have in your mind is "what attracts carpenter ants into your house"? Here are a handful of things to keep an eye on to try and prevent unwelcomed carpenter ants from visiting your home.
Moisture
Carpenter ants love moisture, and this indicates that moist and damp areas in your house attract them. If you have a leak in your home that is not adequately taken care of, then this is a huge attraction for them. Carpenter ants love to live in an area where condensation might collect, like windows and doorways. Bathrooms, kitchens, drains, pipes are also major attractions.
Debris Piles
Firewood left outdoors that has gotten wet is carpenter ant's favorite. If you ever bring multiple pieces of firewood inside that harbor carpenter ants, this is another way to get them inside your house.
Food
Carpenter ants love sugar and protein. All that carpenter ants love is the pet food that is left lying around your house. They are extremely attracted to honeydew, which is a sweet liquid processed by aphids. Carpenter ants mostly forage for food at night and search for anything sweet, sticky, or meaty. In addition to this, garbage cans that are not perfectly sealed are also a great attraction.
Contact Clegg's Pest Control
Even though carpenter ants do not cause as much damage as that of termites, it is still essential to get rid of them. Keeping your house free of carpenter ants and termites all year long require precise prevention of the things that usually attract them, as well as pest control from professionals. So, what are you waiting for? Take necessary measures and keep carpenter ants and termites away from your home. Contact Cleggs Pest Control today to schedule a visit from our experts to help you handle any carpenter ant and termite problems.