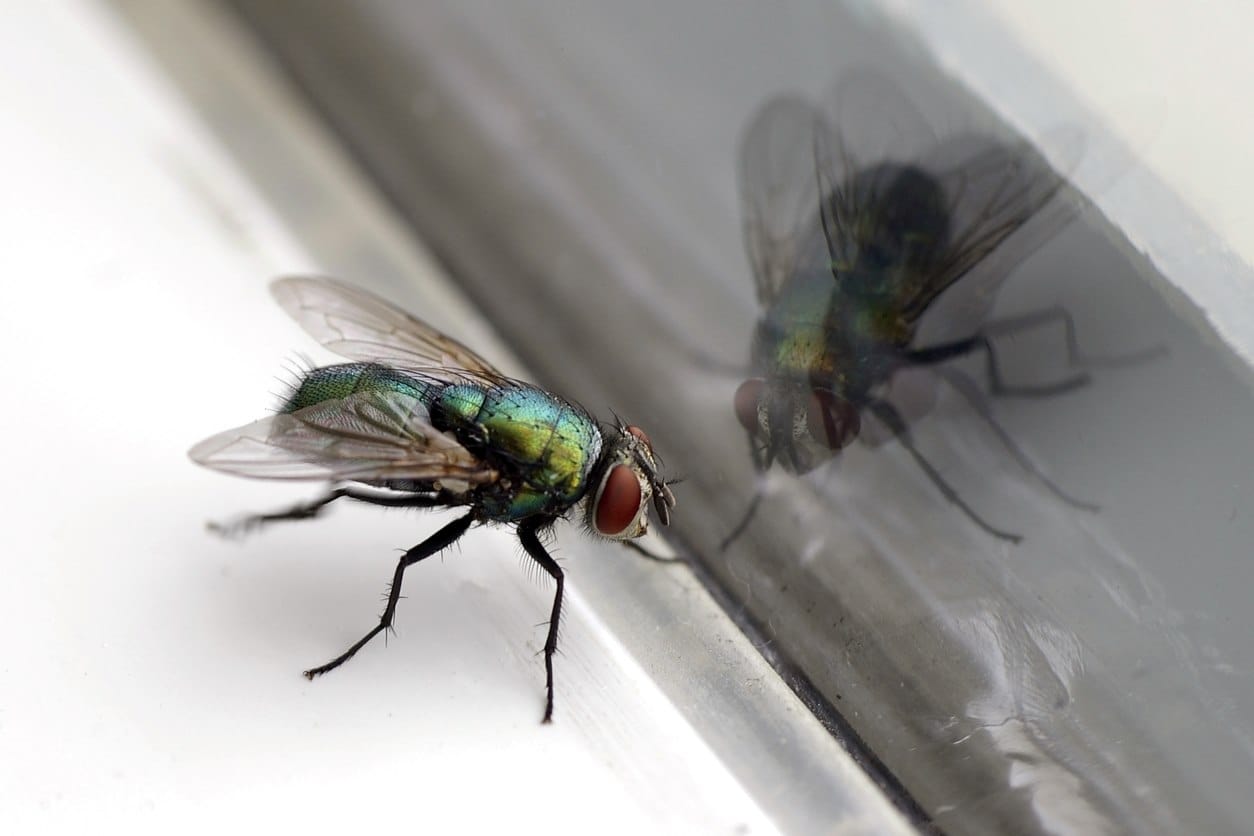 Shoo fly, don't bother me! There's nothing more annoying than a fly that won't leave you alone, and if you have more than one inside your home, you probably want to eliminate them as soon as possible. There are many home remedies for treating house flies, but if you're still having problems with these pests, contact a Clegg's Pest Control professional today for a FREE initial inspection and custom treatment plan. Read on below for more information about how to control and prevent house flies!
How Do House Flies Get Inside?
Flies are most common during the spring, summer, and fall months, as that's when they will seek out food sources. Common reasons flies can be found indoors include uncovered trash cans, ripening fruit on countertops, spilled sodas or open containers of alcohol, pet feces around the property, or dirty drains and sinks. If you leave the windows open on a cool day, look out – flies have an open invitation to your home!
How Can I Prevent House Flies?
Be sure to keep all trash cans, recycling bins, and composting bins covered. You can also clean your garbage disposal and other commonly used drains and keep your property clear of debris, pet feces, or other food-related waste. Keep windows and doors tightly shut when not opening them for fresh air, and make sure that you don't cook or leave food out when windows are open.
How Can I Get Rid of House Flies?
Homemade fly traps can be a good place to start. If you'd like to try treating a fly problem yourself, opt for soda bottle traps or combine vinegar and dish soap for a sticky concoction that flies won't be able to get out of.
However, if you notice that these insects aren't going away, it's time to call a professional. You may have a fly breeding site nearby that needs to be treated, and DIY approaches simply won't get the job done. If you have questions about professional fly treatment, contact us today.
Choose Clegg's Pest Control
It is established that flies are known to carry diseases like E.Coli and Salmonella, so it's important that you treat a pest problem right away. Whether you try a DIY approach or call in a professional, don't leave these pests free to roam your home.
When you work with the team at Clegg's Pest Control, you get the most effective treatment techniques available. We're committed to helping you achieve a pest-free home today. Plus, we have pest control special offers and pest control payment plans to help you get the care you need at a price that will fit your budget!
We've been serving residents throughout North Carolina for over fifty years, and we are proud to provide exceptional service using safe but effective treatment techniques so that you can get back to the things that matter most – like backyard barbecues and gatherings with friends! If you're interested in learning more about our services or would like to schedule a free initial inspection, contact us today or call us at 888-MRCLEGG.