Pests annoying you in Asheville?
The beautiful mountain backdrop we enjoy here in Asheville comes with a lot of perks, but all those wooded hills and valleys also come with a lot of pests. Have some of those pests found their way into your Asheville home or business? We at Clegg's Pest Control are ready to help! Proudly family owned and operated and with over 50 years of experience serving Asheville and NC, we are Asheville's bug extermination and pest control pros.
Environmentally Responsible Asheville, NC Pest Control Services
For more than 50 years, we at Clegg's Termite and Pest Control have continually refined our pest treatments to deliver lasting pest defense in an environmentally responsible manner. Treating homes and businesses for termites, rodents and even pesky outdoor wildlife, our pest management experts provide a variety of green pest control services in Asheville. Our technicians and specialists are highly trained in the latest effective, *safe* and environmentally conscious pest control solutions in the industry. Wouldn't you rather be hiking in Pigsah than worrying about pests in your home? That's what we're here for! Call (888) MRCLEGG or request a Free General Pest Inspection online today!
Why Clegg's Pest Control?
Clegg's Pest Control started over 50 years ago with one man wanting to help a friend with a pest problem. More than 5 decades later, that desire to help a neighbor still motivates our team in all 13 Clegg's branch locations throughout NC, especially here in Asheville! We are proud to provide pest control in Asheville, NC. Why Clegg's? We are proudly licensed by the NC Department of Agriculture, and continue to be a family owned and operated business to this day. When you work with Clegg's, you experience a level of customer service that only a family owned NC business can provide. Our professional and friendly staff of pest control and bug extermination experts are trained in the most effective, safest pest control practices in the industry. We provide a variety of safe, environmentally conscious pest control solutions to protect your home including the following:
Cleggs's Pest Forecast – Look out for these summer pests!
Bed Bugs 
As temperatures warm up in North Carolina people begin to travel more. All of this travel can actually cause bed bugs to find their way into your home. As people move through hotels, airports, Airbnbs, and rental properties, these insects tag along for the ride and infest new areas. Making sure you catch bed bugs before your home becomes infested is imperative. Once bed bugs take hold they are incredibly hard to eliminate without the help of professional bed bug treatment in Asheville.
Bed bugs can often be difficult to identify, and can thrive in other furniture in your house aside from your bed. However, our bed bug technicians have years of experience locating and eliminating bed bug infestations. Plus, our secret weapons, bed bug detection dogs Rambo and Smoke, are the true heroes of our bed beg extermination team. Their canine noses can quickly identify bed bug activity and help our bed bug Clegg's technicians to locate and exterminate any bed bugs in your home. Have strange bites on your arms and legs when you wake up? Think you may have bed bugs? Don't wait, get in touch with our bed bug extermination experts today.
Termites
As summer temperatures start to warm up and the mountains burst into life many creatures become more active. While some of these creatures are harmless, others can cause thousands of dollars in damage. With summer temperatures arriving in Asheville, termites are starting to become more of a problem. When dealing with termites it is important to make sure you catch them and eliminate them before they become a serious problem. the professionals here at Clegg's Pest Control are experts in termite treatment. If you want to be sure that your home is termite free contact us today to request termite control services in Asheville, NC.
Mosquitoes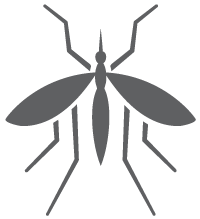 Mosquitoes are some of the most common insects in the United States. While they may be common, mosquitoes never seem to grow on you. Nobody wants to deal with itchy mosquito bites after sitting in their backyard for just a few minutes. Not only do mosquito bites cause itchy lumps on your skin, they can also carry diseases. If you want to get rid of mosquitoes in your yard in Asheville, contact the professionals here at Clegg's Pest Control. We can help you ward off any mosquitoes that are currently swarming around in your yard and set up preventative measures that will prevent future mosquitoes from entering your yard. Contact us today to take the first step toward a mosquito free yard at your home in Asheville.
We are your local pest control heroes in Asheville!