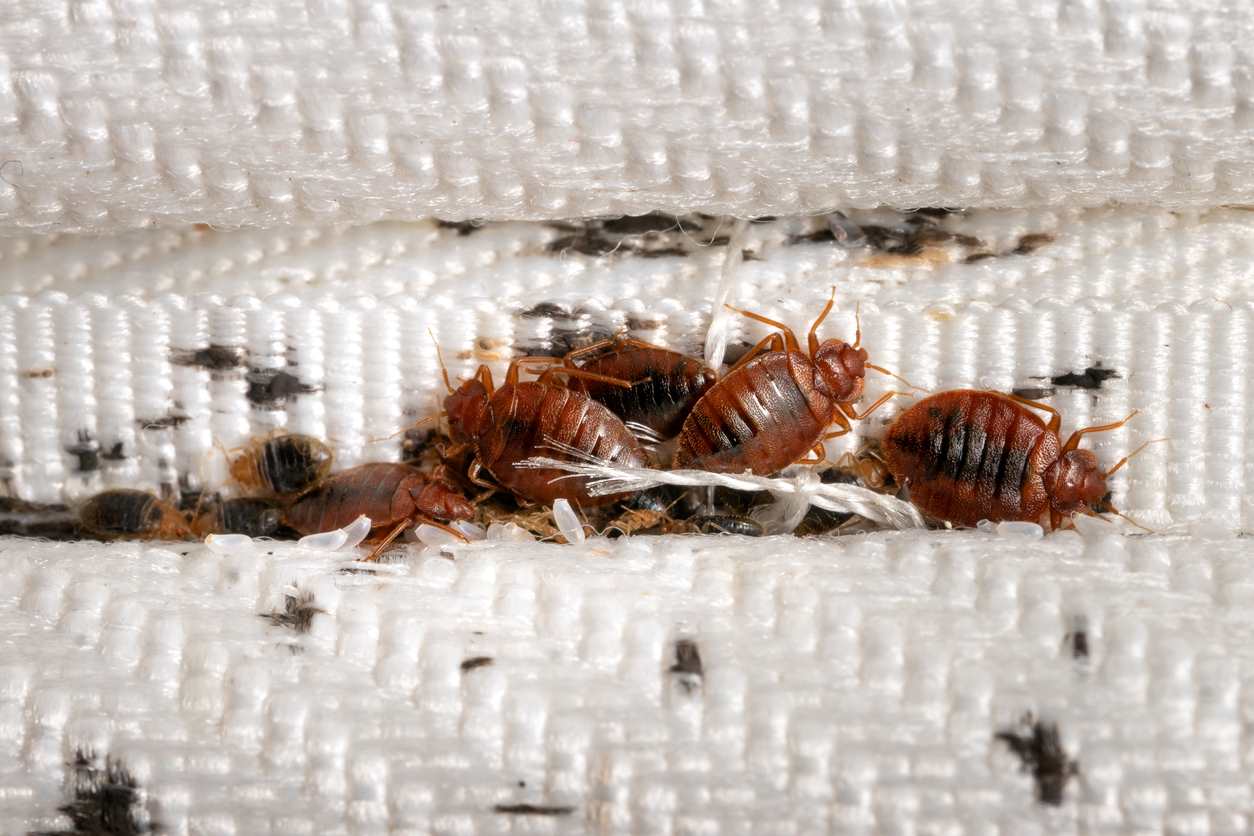 A question that our pest control heroes get a lot is "What do bed bug eggs look like?". The last thing anyone wants to be surprised by is a bed bug infestation. To know how to treat bed bugs, however, you must first know how to identify them. While our trained experts can perform a detailed inspection for bed bugs, we can help you identify the problem before you give us a call!  Read on below for how to spot bed bug eggs if you think you may have an infestation.
Bed bug eggs are small, white, or semi-translucent colored, and difficult to spot with the naked eye. They are usually found in clusters, and they look similar to a piece of uncooked white rice. If you spot shaded egg shells, the bed bugs will be active and an infestation could more than likely occur. If you have seen bed bugs in your home or are suspicious of an infestation, contact us today for your FREE initial inspection. We will send one of our pest control heroes to assess your space and free you from your infestation!
How do I know if I have bed bugs?
Bed bug eggs typically hatch within a week of being laid. They are found on rough surfaces, and the seams around a mattress is the perfect breeding ground for these eggs. There are a few tell tale signs that indicate a bed bug infestation in your home. Keep an eye out for these things:
Blood stains on sheets, pillowcases, and other furniture with fabric
A musty smell from the bed bug scent glands
Molten skin of bed bugs hidden in bedding or furniture
It's important to know that once you realize that you have bed bugs, treating your home or business is absolutely necessary. Since bed bugs feed off of live blood, once a bug bite is present on someone's skin, the bed bugs will most likely spread to other furniture around your space. Contact us today if you have seen any of the above signs, and we will come help you immediately!
Will I be Able to See Bed Bugs or Bed Bug Eggs?
Bed bugs are generally visible to the natural eye, especially if they've just eaten – that's when they're the largest! Bedbug eggs are tiny, and it could be necessary to utilize an magnifying glass to recognize them.
Notwithstanding, when a bed bug population  is larger  than usual, the bugs will group up in one spot. When this happens, you'll see a dark or ruddy-colored structure made up of these small bugs. Check around the following areas to try and spot this sign of a bed bug infestation:
Under and inside the sleeping cushion
Box spring or bed outline
Inside gear and bags
Home apparatuses, light switches, and electrical switches
Furniture and racks in the room
Behind backdrop
Behind pictures
Breaks and clefts in the whole property
Floor coverings
Where do bed bugs lay eggs?
Bed bugs will lay their eggs in regions where invasions are most regularly found. Usually, bed bugs will lay eggs within the same 20-foot span in which they are active. Ideally looking to live and lay eggs in crevices near human hosts, it's common for bed bugs and their eggs to be tucked into areas like bedding and mattresses.
How often do bed bugs lay eggs?
Bed bugs typically lay about 6 eggs every two months. Nonetheless,  they breed and lay eggs throughout the year, meaning that bed bug infestations can continue growing all the time. . Because of this, it really only takes one pregnant female bed bug to begin an all-out attack. Since  bed bug populations can grow so steadily, it's best to get a pest control plan in place to eliminate them quickly.
What can I do to try and kill bed bug eggs?
Disposing of bed bugs is an overwhelming undertaking. Since they're great at hiding away and tend to only be active at night, you'll have to be especially proactive to find a bed bug population. The following DIY solutions are sometimes used to try and control bed bugs:
Nail Polish Remover
Rubbing Alcohol
Vacuum
Dryer
Steam Mop
While these solutions can help with bed bugs, keep in mind that it can also be easy to miss bed bugs with these treatments. Professional pest control methods are generally the most effective for completely eliminating bed bugs.
Will bed bugs come back after treatment?
One of the tricky things about dealing with bed bugs is that they can be a recurring issue. If you see bed bug eggs, a heat treatment can stop them from hatching if performed in a timely manner. Once the eggs hatch however, bed bugs can be more difficult to treat. Additionally, bed bugs can sometimes take a few weeks to fully disappear, so it can be hard to determine if they are fully gone or not. Cleggs provides multiple treatment plans to eradicate bed bugs and ensure that they will not be an issue again.
Eliminate Bed Bugs With Clegg's Pest Control
One of the most effective ways to get rid of bed bugs is using heat treatments, which is our preferred method of extermination. Once we have identified the source of the bed bugs, we can work on developing a treatment plan that best suits your needs. Please call (888) MRCLEGG to hear more about our specials that are currently running and to get your initial pest inspection for FREE! We would love to serve you!
Why choose Clegg's?
We know that bed bugs can be a horrible infestation to suffer, so let us take care of them for you! We have been serving the community since 1965 and are proud to be your local pest control heroes. Delivering a range of different pest control methods, our team has handpicked the absolute best methods for eradicating each pest you may have in your home or business. If you are tired of dealing with pests in your home and want to exterminate them for good, give us a call or contact us online. We look forward to hearing from you!