Carpenter ants are indeed one of the several species that may be found infesting your homes or workplace. Unlike other insect pests, they are not harmful to health, but they can still pose a major structural damage risk.
In the warmer months, the indoors and outdoors of your property can invite a rally of carpenter ants. You can find impromptu sites of small pavements in your driveway, lawn, or patio where you can easily find carpenter ants.
In the coming part of the article, you'll read about the eating habits of a carpenter ant and much more. Watch out for carpenter ants because although they are too small to eat you, they can still bite! When you certain behaviors or eating patterns of these insects, it will become easy for you to find their origin and the reason why they are attracted to your home or building.
The nest of a carpenter ant can differ in size, but if a carpenter ant infestation in your home or other buildings is left unchecked, it can eventually cover and damage a large portion. That's the only reason why finding carpenter ants should be taken seriously.
Do Carpenter Ants Eat Wood?
Contrary to the popular belief that carpenter ants eat wood, they get their name because of the fact that they excavate wood. It comes in their habit to nest inside wooden structures. The wooden structure that the ants choose will be the home of the carpenter ant queen and the entire colony. Carpenter ants do this because they are adept at chewing and digging through dry and softwood.
They basically burrow into the wooden areas and form a smooth tunnel inside, which leaves sawdust-like shavings outside their nests. In these tunnels or galleries, carpenter ants raise their younger ones. In other words, it will be safe to mention that they nest inside wooden structures to raise a family.
Thus, it is clear that, unlike termites, carpenter ants do not eat or digest wood. However, they seek shelter in suitable parts of the home and other buildings where they can live and grow. So, if you ever find a random pile of particles that looks similar to wood shavings, it is a sign that you have carpenter ants nesting in that area.
Do Carpenter Ants Eat Trees?
If you have observed dozens of carpenter ants inside and out of the base of a tree in your garden, then you would have elicited a fear that these ants are eating the tree. However, as mentioned before, carpenter ants do not consume wood, but they establish galleries inside the rotten wood in order to make their nest within the tree.
Piles of sawdust because of the presence of carpenter ants can be found around the base or branches of trees. It is vital here to mention that since you see carpenter ants raiding around the tree is due to its nature. If you have come across a carpenter ant nest within a tree in your garden or somewhere else, it does not indicate that the tree is in a declining state.
If a tree is healthy enough, often, these nests go unnoticed for years. It happens because carpenter ants tunnel in the dead or soft tissue of the tree, and they do not disrupt the flow of nutrients and water in the tree.
Do Carpenter Ants Eat Termites?
Termites face several predators in their lifespan, and carpenter ants are one of them. Ants eat termites due to various reasons. One of the biggest factors why termites make the best meals for carpenter ants is because they offer proteins in sufficient quantities. Termites and ants need similar living environments. Thus, they make natural competitors.
One of the core motives why carpenter ants eat termites is because it reduces the competition for resources. Various species of both the insects develop their nests in underground, dark and moist areas. Like termites, carpenter ants also chew wood. When ants feed on termites, it ultimately benefits them because, in a way, they are removing rivals for nesting areas.
Do Carpenter Ants Eat Sugar?
Carpenter ants eat dead and living insects. They search for protein-rich foods as it nourishes the colony and allows a productive year when it comes to expansion. In addition to that, they are also attracted to food items that have higher sugar content.
In jungles, they feed on honeydew produced by aphids and scale insects. If you have seen a trail of carpenter ants in your home, then you would have noticed that they consume sugar, honey, jams, jellies, syrups, along with meat and other sweet items.
What to Bait Carpenter Ants With?
Baiting carpenter ants is possible using both natural and artificial means. But first, you need to have a rough idea of where the ants are burrowing so that bait can be placed most effectively. The simplest way to get an idea of the location of ant nests is to look for places with damp wood, which is nothing less than a goldmine for carpenter ants. You can also look for piles of sawdust. The best method is to follow a few ants back to their nests in the evening when they are the most active.
Now that you know where their nest is baiting them is easy. A natural carpenter ant bait can be made by mixing equal quantities of baking powder and sugar. As baking powder is a natural poison to ants and sugar an attraction, ants will be killed when they consume the mixture. There are also other chemicals that can be bought from any convenience store to bait and kill the ants.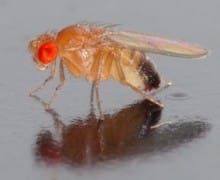 Will Carpenter Ants Eat Through Drywall?
Drywall, also known as sheetrock, is used in walls and ceilings in many homes. As the biggest attraction spot for carpenter ants is a place where water and wood interact to cause some rotting, carpenter ants can easily eat through the drywall. In fact, moist drywall is an ideal nesting place for Carpenter Ants.
If your drywall is insulated with foam insulation or fiberglass, it creates a perfect shelter for carpenter ants. But if you have got your insulation done with cellulose, the carpenter ants will never come near it as these walls are coated with repellent chemicals.
Carpenter Ants are also known to dig through the drywall, making it weaker over time. If you find out that your home is infested with these carpenter ants, be sure not to keep checking the structural integrity of these walls to avoid any long-term accidents.
Contact Clegg's Pest Control
Carpenter ants do not feed on wood. Instead, they nest inside wooden structures. So, if you come across an area where you see wooden shavings, treat it as a sign of infestation. If you find any signs of carpenter ants around your home, you should contact a professional to check out the situation before too much damage is done to your home. Fill out the form below for a free inspection of your home. Clegg's will have your house pest-free in no time.